startup failures by stage
WeWork has been posing as a tech company (albeit unsuccessfully) since its inception, and given their recent troubles, it's a good time to step back and evaluate what makes a company tech. Today, tech = SaaS, and gross margins tell the story. Real software margins float anywhere from 70-90%, while WeWork's sit at 20%. The truth is companies should be valued based on these margins, not whether or not they're "tech." 
---

🔥💰 VC backed startups fighting to gain traction inevitably live with the fear of running out of cash, and for good reason: 30% of polled founders said that insufficient capital led to their demise. The numbers show that founders could afford to be more conservative when raising funds, and that adhering to the conventional wisdom of targeting 12-18 months of runway between rounds has caused many failures. Most companies actually need at least 18-21 months of runway, and 35 months on the high end. 
🌾 🅰️ 🅱️ When segmenting these VC backed failures by stage (with failure defined as the inability to either raise a subsequent round or exit), we see that the farther a business progresses through the financing stages, the more likely they are to exit. This isn't a huge surprise—mature businesses are more established and attractive for acquisition. But what does stick out is there is a considerable drop in the ability to raise a subsequent round from Seed (79.4%) to Series A (50%). Things get easier bit by bit from Series B and on (see below).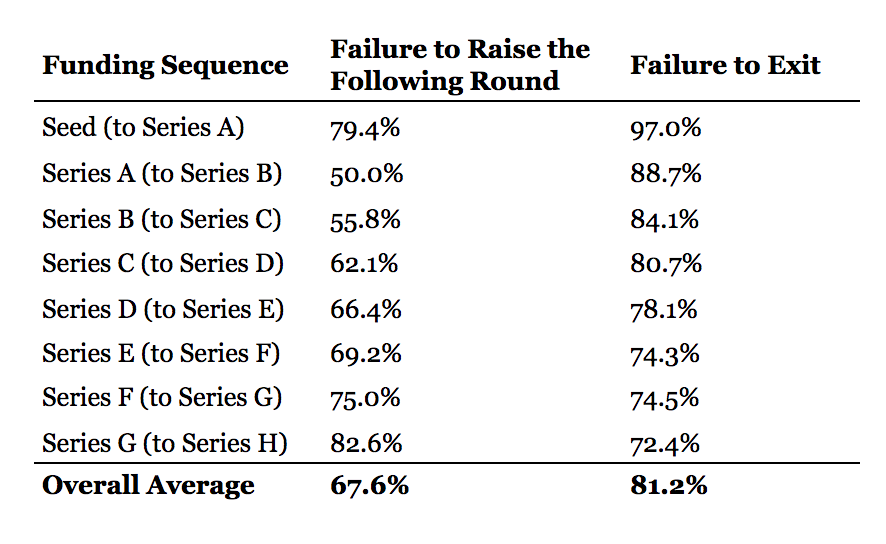 🍝 Founders generally think about exiting their startups in two ways: building and selling the company for millions, or building and taking it public for billions. But they don't have to strive for these "get rich quick" plays—an increasingly popular alternative is to build and extract cash from a business over time. Basecamp CEO Jason Fried is a big proponent of the idea and believes founders should be creating companies that are like mom and pop Italian restaurants: they have longevity, a sustainable business, and aren't gunning to be the next Olive Garden.
---

😴 JotForm CEO Aytekin Tank has grown his customer base from 0 to 5m and continues to add 50k users a month, all without ever raising a dime of capital. Want to know how? He is selling something bigger than "boring forms"—he's selling that Jotform makes your organization productive. That core narrative has been the catalyst for their growth. Intercom is another example of a company with a compelling narrative—that online business needs to be personal. Here's how Intercom infuses that narrative into their business:  
Content: Intercom's content team doesn't write blog posts on how to send messages via Intercom Rather, they show readers how to write personalized messages that will engage their customers. 

Growth: Intercom avoids inhuman marketing tactics like spammy emails. They're incredibly transparent with their marketing, think that "growth hacks" are bullshit, and there are no silver bullets to growth.

Customer Support: The head of product actively searches for team members who embody the narrative of making business personal. Intercom needs people who are enthusiastic about creating relationships, not just cashing a check.
---

🎥 In the newly released That Will Never Work, Netflix co-founder Marc Randolph shares lessons from his time working alongside Reed Hastings and their story of scaling the company. Randolph left Netflix in 2003, long before it grew to the massive streaming service it is today, but those early years were the most crucial. In an interview with Marker, he shared some insights from the book:
For 14 years Netflix was a DVD by mail company, and had little assurance the idea would ever actually work.

He isn't sure what would have happened if Blockbuster went through with the purchase of Netflix in 2002, but feared they were unlikely to keep the original talent of the team, the core piece of Netflix's success.

Randolph never saw the scale that Netflix has today coming, but as early as 1998 knew that they wouldn't be a DVD by mail business and that streaming was the future.

He thinks too many people are getting into entrepreneurship for the wrong reasons, namely the glorification of Silicon Valley and the celebrity status the success can bring.